Workplace Climate Survey
In Fall 2019, The Canadian Women Economists Committee of the Canadian Economics Association administered a workplace climate survey for economists using the National Opinion Research Center (NORC) at the University of Chicago (read more about the survey)
We are delighted to announce the release of survey results.
The complete survey report is available here (French version). You may also view the report info-graphics. The 2019 Report on The Status of Women can be found here. 
The release was accompanied by three exciting panel discussions on diversity in the Canadian economics profession, featuring insights from some of the prominent figures in the profession. In case you missed one or more of these events, the Zoom recordings are available below.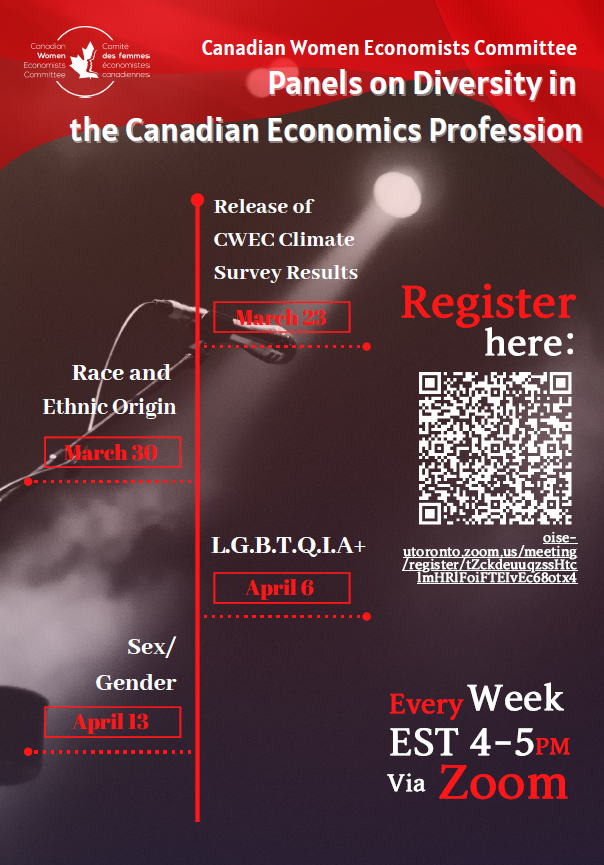 March 23, 2021: Release of CWEC Climate Survey Results
March 30, 2021: Race and Ethnic Origin 
Millan Mulraine - Chief Economist at Ontario Teachers' Pension Plan
Césaire Meh - Senior Research Officer at the Bank of Canada
Rob Gillezeau - Assistant Professor of Economics at University of Victoria
Gervan Fearon - President and Vice-Chancellor at Brock University
Akwugo Balogun - PhD Student at McMaster University
April 6, 2021: L.G.B.T.Q.I.A+
Viet Vu - Economist at The Brookfield Institute for Innovation + Entrepreneurship
Heather Bone - 3rd year PhD Student at University of Toronto
Jennifer Hunt - James Cullen Chair in Economics; Professor of Economics at Rutgers University
Anthony Landry - Senior Research Advisor at the Bank of Canada; Adjunct Professor of Finance at the Wharton School of
the University of Pennsylvania
April 13, 2021: Sex/Gender
Rose Anne Devlin - Professor at the Department of Economics University of Ottawa
Lindsay Tedds - Associate Professor of Economics; Scientific Director of Fiscal and Economic Policy at University of Calgary
Zara Liaqat - Sessional Lecturer at the University of Waterloo
Darcey McVanel - Director of the Retail Payments Modernization Division at the Bank of Canada
Climate Survey Sponsors
CWEC and the CEA are grateful for the generous support from the following sponsors of the Workplace Climate Survey.
Bank of Canada | Banque du Canada – LEAD SPONSOR
Federation for the Humanities and Social Sciences
Carleton University – Department of Economics
McGill – Department of Economics
McMaster University – Department of Economics
Simon Fraser – Department of Economics
University of Alberta – Department of Economics
UBC Vancouver School of Economics
UBC Land and Food Systems
UBC Sauder School of Business
University of Calgary – Department of Economics
University of Guelph – Department of Economics and Finance
University of Manitoba – Department of Economics
University of Ottawa – Department of Economics
University of Toronto – Department of Economics
University of Saskatchewan – Department of Economics
University of Waterloo – Department of Economics & UWaterloo HeForShe IMPACT10x10x10
Western University – Department of Economics
WLU – Lazaridis School of Business & Economics