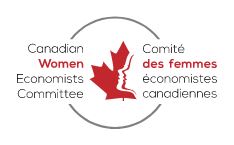 The Canadian Women Economists Committee/Comité des Femmes Économistes Canadiennes was created in 2017 as a standing committee of the Canadian Economic Association charged with supporting and promoting the advancement of women in the Canadian economics profession.
It follows directly from the Canadian Women Economist Network (CWEN) which was founded in 1990 as an independent association of persons interested in promoting women economists and their ideas. The change from CWEN to CWEC recognizes that this responsibility of supporting and promoting women does not just fall on the female membership, but on the profession as a whole. Over the past three decades, CWEC/CWEN has been instrumental in promoting women's involvement with and within the wider Canadian economics community.
The winners of 2021 CWEC/CFÉC Sylvia Ostry Award and Young Researcher Award have now been announced!
Call for submissions for the upcoming issue of CWEC Newsletter
As a part of our mission to promote Canadian women economists and raise awareness of the challenges that are unique to women's careers, we publish a bi-annual newsletter. We would like to highlight new research by Canadian economists on gender related topics and research by Canadian women economists. Also, if you are (or know of) a woman economist who is a recipient of an academic prize, please let us know. We are always happy to announce award winners and honour outstanding contributions by women in the profession. Previous issues are available here. Submission deadline is June 5, 2021. Please send to egugl@uvic.ca.
We are also offering women economists in Canada the opportunity to attend free media training! 
Recent Events:
 Release of Climate Survey results on Diversity in the Canadian Economics Profession