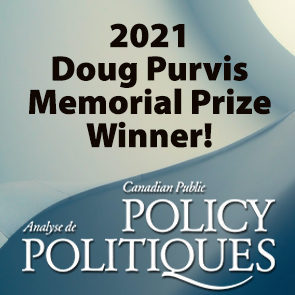 Purvis Prize
At the June, 2021 meetings of the Canadian Economics Association, it was announced that Canadian Public Policy/Analyse de politiques had co-won the Purvis Prize for its three supplementary COVID issues entitled, "The COVID-19 Pandemic/La pandémie de COVID-19" published in July, August, and October of 2020. The co-winner was "Interpreting Experimental Evidence in the Presence of Postrandomization Events: A Reassessment of the Self-Sufficiency Project" by Chris Riddell and W. Craig Riddell, published in 2020 by the Journal of Labor Economics.

The journal will use its share of the prize to support students traveling to conferences to present papers relevant to public policy in Canada.


Aims and Scope
Since 1975, Canadian Public Policy/Analyse de politiques has been the foremost peer-reviewed journal examining economic and social public policy issues in Canada. It is directed at a wide readership including policy researchers, decision makers and advisers in governments, businesses, unions, non-government organizations and universities. CPP  is available in print and online.
From the beginning the journal was intended to be multidisciplinary.  It was founded as a separate charitable organization by the Canadian Economics Association with other sponsoring organizations the Canadian Political Science Association, the Canadian Association of Law Teachers, the Canadian Sociology and Anthropology Association, the Canadian Association of Geographers, the Canadian Association of Schools of Social Work, the Institute of Public Administration of Canada, the Administrative Sciences Association of Canada, and the Canadian Association for Business Economics.