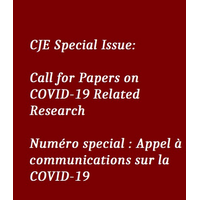 CANADIAN JOURNAL OF ECONOMICS
REVUE CANADIENNE D'ÉCONOMIQUE
(La version française suit)
SPECIAL ISSUE
Call for papers on COVID-19 related research
The Canadian Journal of Economics/Revue Canadienne d'Économique invites submissions of manuscripts related to the COVID-19 pandemic for expedited publication.
Governments and public authorities' initial actions to slow and contain the spread of the COVID-19 are impacting how we live, but are also having major effects on the economy, including the health sector, labour markets, financial markets, trade and the environment in industrialized, emerging, and developing countries. In the transition from these initial actions, insights from timely research can inform, impact, and shape public policies. Recognizing the variety of ongoing research efforts, with different perspectives and methodological approaches (including those combining epidemiological and economic models), we are particularly interested in submissions in the following three broad categories:
Macroeconomics/Aggregate Analyses

Applied Microeconomics

Structural/Econometrics
We encourage the submission of shorter papers.
Guest Editors:
Victor Aguirregabiria (University of Toronto, victor.aguirregabiria@utoronto.ca)
Siwan Anderson (Vancouver School of Economics, siwan.anderson@ubc.ca)
Hashmat Khan (Carleton University, hashmat.khan@carleton.ca)
Submission of Papers: The deadline for submissions is August 31st, 2020. Manuscripts can be uploaded and submission fees paid at CJE's website (https://www.economics.ca/cpages/cje-authors). Submissions should be formatted using the CJE template/style and when uploading manuscripts in the journal's online submission system (ScholarOne), please select 'Special Issue' for manuscript type.
All submitting authors should also familiarize themselves with both the CJE's Conflict of Interest and Ethical Guidelines for Authors and Data Availability Policy (https://www.economics.ca/cpages/cje-journal-policies).
For further information, please contact the guest editors.

---

Numéro special
Appel à communications sur la COVID-19

La Revue canadienne d'économique (RCÉ) sollicite la soumission de manuscrits relatifs à la pandémie de COVID-19 en vue d'une publication accélérée.

Les premières mesures prises par les gouvernements et les autorités publiques des pays industrialisés, émergents et en voie de développement pour ralentir et contenir la propagation de la COVID-19 ont eu des conséquences non seulement sur le mode de vie des individus mais aussi sur l'économie, le secteur de la santé, le marché de l'emploi, les marchés financiers, le commerce et l'environnement. Dans un contexte de transition par rapport à ces mesures initiales, des perspectives opportunes pourront apporter un nouvel éclairage, influencer et façonner les politiques publiques à venir. Compte tenu de la multiplicité des efforts de recherche en cours et des différentes approches méthodologiques (notamment celles associant les modèles épidémiologiques et économiques), nous encourageons les soumissions dans trois axes de recherche en particulier:
• La macroéconomie/les agrégats macroéconomiques
• La microéconomie appliquée
• L'économétrie/l'économétrie structurelle
Rédacteurs invités:
Victor Aguirregabiria (Université of Toronto, victor.aguirregabiria@utoronto.ca)
Siwan Anderson (Vancouver School of Economics, siwan.anderson@ubc.ca)
Hashmat Khan (Université Carleton, hashmat.khan@carleton.ca)
Soumission des articles: La date limite pour la soumission des contributions est fixée au 31 août 2020. Les articles doivent être envoyés par l'entremise du système de soumission en ligne de la revue et formatés en utilisant le modèle/style de la RCÉ. Les directives pour les auteurs sont disponibles ici.
---