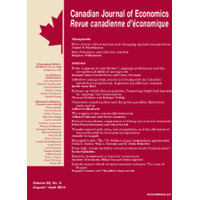 Canadian Journal of Economics Volume 53(2) is available on the Wiley online Library
CEA Members, please use the following link to authenticate your access to the CJE on the Wiley online library:
CEA Member Online Access to the CJE
CJE Announcements
A new Data Editor for the CJE

The Canadian Economics Association is looking to appoint a new data editor for the Canadian Journal of Economics. If you have any suggestions for a new CJE data editor, please email the CJE Managing Editor, Katherine Cuff, at cuffk@mcmaster.ca.

Special Issue: Call for papers on COVID-19 related research

The Canadian Journal of Economics/Revue canadienne d'économique invites submissions of manuscripts related to the COVID-19 pandemic for expedited publication.

Robert Mundell and Harry Johnson Prizes 2019

The winner of the Mundell Prize is Brock Smith for his paper "Dutch Disease and the Oil Boom and Bust.
The winners of the Johnson Prize are Lauren E. Jones, Kevin Milligan and Mark Stabile for their paper "Child cash benefits and family expenditures: Evidence from the National Child Benefit".

Congratulations!
---
Canadian Journal of Economics Volume 53(2)
Viewpoint
Modeling and predicting the competitive effects of vertical mergers: The bargaining leverage over rivals effect by William P. Rogerson
Articles
The incidence of income taxes on high earners in Canada by Stephen Gordon
Property rights on First Nations reserve land by Fernando M. Aragón and Anke S. Kessler
Public transit and air pollution: Evidence from Canadian transit strikes by Nicholas Rivers, Soodeh Saberian and Brandon Schaufele
Leave it in the ground? Oil sands development under carbon pricing by Branko Bošković and Andrew Leach
Marijuana and alcohol: Evidence using border analysis and retail sales data by Michele Baggio, Alberto Chong and Sungoh Kwon
Trade, transport costs and trade imbalances: An empirical examination of international markets and backhauls by Felix L. Friedt and Wesley W. Wilson
Do economic integration agreements affect trade predictability? A group effect analysis by Erik Figueiredo and Luiz Renato Lima
Risk sharing and export performance with firm heterogeneity by Seung Hoon Lee and Byongju Lee
Sector and importer determinants of prices for traded intermediates by Eddy Bekkers, Joseph F. Francois and Miriam Manchin
World Steel Production: A New Monthly Indicator of Global Real Economic Activity by Francesco Ravazzolo and Joaquin Vespignani
Bayesian Assessment of Lorenz and Stochastic Dominance by David Lander, David Gunawan, William Griffiths and Duangkamon Chotikapanich
The Hotelling rule in non‐renewable resource economics: A reassessment by Roberto Ferreira da Cunha and Antoine Missemer
The macroeconomic impact of NAFTA termination by Joseph B. Steinberg
---
---