CEA Fellow: Gérard Gaudet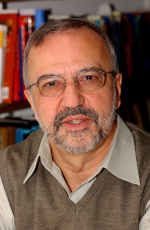 Gérard Gaudet est professeur émérite au Département de sciences économiques de l'Université de Montréal.  Il s'est joint à l'Université de Montréal en 1996, après avoir été professeur à l'Université Laval, à l'Université du Québec à Montréal et à la University of Western Ontario.   Il a obtenu le PhD en sciences économiques de la University of Pennsylvania, après des études de premier cycle et de maîtrise à l'Université de Moncton et à l'Université Laval.
Chercheur dans le domaine de l'économie des ressources naturelles et de l'environnement reconnu tant sur la scène internationale que nationale, il a développé une expertise dans l'utilisation des méthodes d'analyse dynamique (optimisation dynamique, jeux dynamiques), qu'il a appliquées, entre autres, à l'étude de l'exploitation des ressources naturelles et de l'environnement.  Il a également contribué à certains aspects de la théorie de l'oligopole et de ses applications en organisation industrielle.
Il fut rédacteur associé du Journal of Environmental Economics and Management et de Resource and Energy Economics, ainsi que membre des conseils de rédaction de Environment and Development Economics, du Canadian Journal of Economics/Revue canadienne d'économique, et de l'Actualité Économique. 
Tout en poursuivant ses activités de recherche et d'enseignement, Gérard Gaudet a occupé les fonctions de directeur de deux départements de sciences économiques québécois (Université Laval, 1978-1981, 1994-1996, Université de Montréal, 1997-2002).  Il a dirigé une quinzaine d'étudiants au doctorat et une quarantaine à la maîtrise.  Il a été membre de comités scientifiques pour plusieurs congrès internationaux.  Entre autres, il a coprésidé le Comité d'organisation et le Comité scientifique du Fourth World Congress of Environmental and Resource Economists qui a eu lieu à Montréal en 2010, congrès qui a attiré plus de 1100 participants en provenance d'une soixantaine de pays.  Il a été professeur ou chercheur invité aux universités de Toulouse, Michigan, Tilburg, Grenoble et Aix-Marseille II et a développé de nombreuses collaborations internationales, comme l'atteste la liste de ses coauteurs. 
Il a été président de la Société canadienne de science économique, ainsi que de l'Association canadienne d'économique.  Il est membre élu de la Société Royale du Canada depuis 2005.  En 2010, l'Université de Moncton lui a décerné un doctorat honoris causa et, dans son numéro de novembre 2013, la revue Resource and Energy Economics lui a consacré une section spéciale intitulée Essays on resource economics in honor of Gerard Gaudet. Il a été nommé membre honoraire de l'Association française des économistes de l'environnement et des ressources naturelles (FAERE) en 2016.